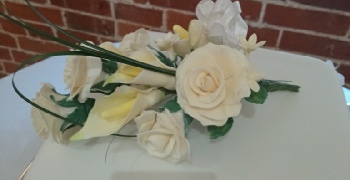 Personal delivery throughout Suffolk, Norfolk, Essex, and throughout East Anglia by arrangement Tel: 01787 468694

If you would like to provide a reciprocal link of your business services to this page, please contact me.
Note: Anne's Cakes for All Occasions takes no responsibility for advertisers on this site and offers no guarantees.
In 2015, I was nominated for the first Guide for Brides 5* Customer Service Awards and achieved shortlist status for the top 100 in the UK; an achievement I am proud of.
Although nominated again in 2016 I have decided not to accept the nomination put forward because, this year, GFB charge £150 in order to accept nominated feedback; something I consider to be unreasonable and unfair. Without paying for the privilege, feedback cannot be left on the GFB web and therefore, nominations not consideration for an award!!
In my opinion the fee charged makes a mockery of the GFB Awards Scheme!
Anne's Cakes For All Occasions #Sudbury, #Suffolk,
Personal deliver to all surrounding areas, including #Ipswich, #Colchester, #Bury St #Edmunds, #Hadleigh, #Woodbridge, #Haverhill, #Halstead, #Coggeshall, #Marks Tey, #Witham,
#Norfolk, #Suffolk, #Essex,
#East #Anglia